Hi guys, hope everyone is doing fabulous and excited about Summer! It's almost here!!!
Today I wanted to talk to you about Domains.
What are Domains? Do you need one for your site?
Where do you get a Domain here in our Sunny South Africa?
Let's start from the beginning.
What is a Domain
When I talk to my clients I like describing a Domain as an address. Let's say you have a physical store. This store has an address that your clients can put into their map and find you this way.
When you have a digital store the address is your domain name. The concept is pretty much the same. Domain is that URL that you see in the top bar, it's the https://www.yoursitename.co.za
You need to get a domain name to be able to have a website.
Domain names are pretty cheap. You can get one for your site for anywhere from R80 to R190 a year.
Just remember you will have to pay for it annually. 
Where to get a Domain in South Africa
There are a few places where you can get a domain for your site.
GoDaddy
NameCheap
Your Hosting Provider
I like to buy my domains from GoDaddy because they are cheap, easy, quick to set up and their support is great.
Why I don't like purchasing my domains from a hosting provider is because every now and then I change my hosting and if I were to buy my domains form my hosting, I'd have to pay the transfer fees (they aren't huge but I'm all for saving and efficiency).
If you decide to go with GoDaddy, here is what you will see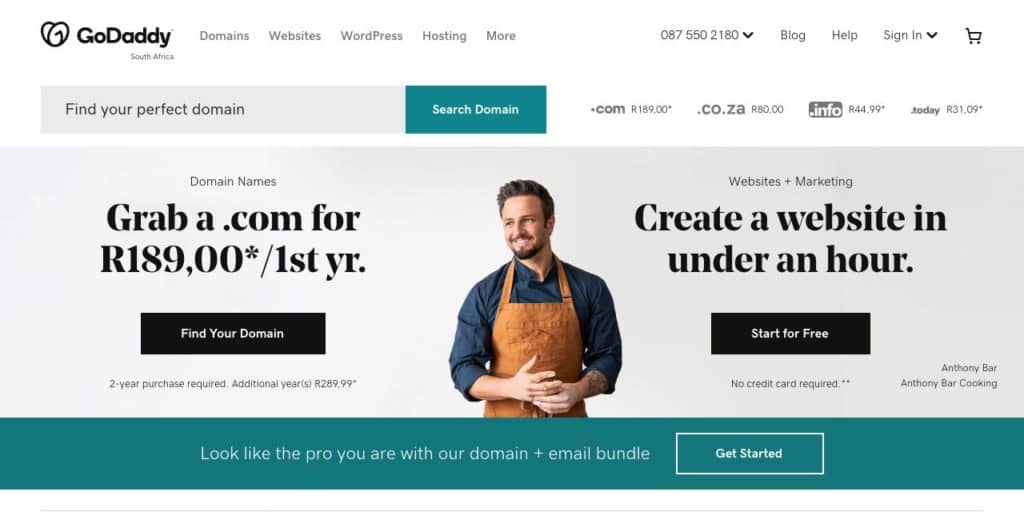 Go to "Sign In" and "Create my Account"
Then go to Domains on top, and find a domain name for yourself.
You will just have to put your desired name into the search bar and see if it's available. If it is, purchase it and you are good to go!
Should you go for .co.za or for .com?
When you start looking for a perfect domain for your site you will see various options – TLDs.
TLD is a top level domain, basically, it's what goes after the name of your site.
I suggest as a rule of a thumb to go for .com (I made a mistake with this website. I loved the name BecomeMedia and .com wasn't available so I took a leap and just got my .co.za because I provide local services)
Then, also get the local one (especially if you focus on providing only local services)
And lastly get the .net, .org, .info so that no one else gets it. You don't need that extra competition.
See you guys in the next post where we will discuss Hosting, which ones I use and recommend.
Until next time, keep branding yourself <3